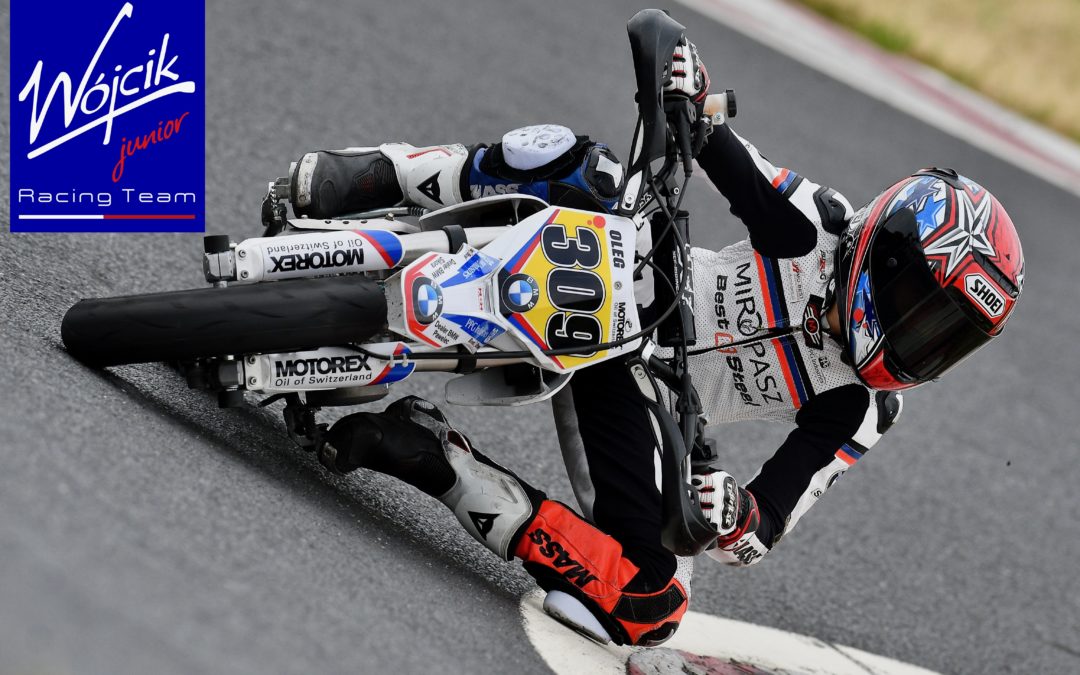 19 May 2020
Polish Champions join the European Talent Cup
Brothers Milan and Oleg Pawelec joined by Mateusz Pasiuk will form a new Wójcik Racing Junior Team in the 2020 Hawkers European Talent Cup, a stepping stone into the FIM Moto3 Junior World Championship.
The trio had dominated the national Pit Bike SM Cup in their native Poland in 2019 with the 12-year-old Milan lifting the Stock 150 Junior title with a clean sweep of ten victories and his 14-year-old brother Oleg taking runner-up honours after finishing second in nine out of ten races. Meanwhile the 13-year-old Mateusz Pasiuk took the Stock 125 title with ten podiums including five victories.
The young stars are set to take up a new challenge in 2020 with the support of the FIM EWC front-runners and Poland's sole entry in the World Supersport Championship, the Wójcik Racing Team.
All three riders can also count on the experience of Milan's and Oleg's father Tomasz, a 2004 Polish Supersport Champion as well as their uncle Andrzej, a six-time Polish Champion with both FIM EWC and WorldSBK outings to his name. The 12-year-old Milan already turned heads at the end of 2019, impressing during the Red Bull MotoGP Rookies Cup selection event in Spain.
Despite offers from the Championship regulars, the youngsters decided to make their 2020 ETC debut in the national colours, racing for the junior division for the Wójcik Racing Team. They're set to take part in all seven rounds of the series, with 11 races in total, and battle against 43 rivals from 15 different countries. The entire field will race on identical, prototype Honda NSF250R motorcycles with all races streamed live on YouTube and by various broadcasters worldwide.
"Our European Talent Cup debut will be a big challenge – says Tomasz Pawelec, who'll take on a role of a Team Manager of the new Wójcik Racing Junior Team. – After a very successful pit bike season last year and Milan's impressive outing during the Red Bull MotoGP Rookies Cup selection event we had offers from various established ETC teams but decided to enter the Championship with our own structure. This means the beginning will be even harder, especially as we'll be going out against some very experienced teams and extremely talented and successful riders, but we're sure that this decision will bear fruit in the long term. Especially since we can count on the experience and support of the Wójcik Racing Team, for which I'd like to thank Grzegorz Wójcik. It's probably not the perfect moment to make this announcement given the situation worldwide but since the official entry list has just been released, we didn't want to keep the Polish fans waiting any longer."
"Helping young talents is just as important for me and the entire Wójcik Racing Team as battling at the front of the World Championship, which is why for 2020 we'll continue to support Poland's finest up and coming stars – adds Team Principal Grzegorz Wójcik. – We have no doubts about the amount of talent of our ETC trio, having seen their speed and work ethics last year, which is why I'm convinced that Milan, Oleg and Mateusz will go a long way in this sport. Having said that, 2020 won't be easy. While we already have a significant racing experience on a World Championship level with production bikes, we're stepping into a new territory with the ETC prototypes, so we're not putting any pressure on our new riders and just expect them to learn."
Hawkers European Talent Cup 2020 Calendar:
25/26 April – Portimao, Portugal
23/24 May – Valencia, Spain (two races)
13/14 June – Barcelona, Spain
4/5 July – Estoril, Portugal (two races)
18/19 July – Aragon, Spain (two races)
10/11 October – Jerez, Spain (two races)
7/8 November – Valencia, Spain
For more info about the Wójcik Racing Teams please visit the official Facebook profiles at www.facebook.com/wojcikracingjuniorteam and www.facebook.com/wojcikracingteam as well as the official website at www.wojcikracingteam.pl .