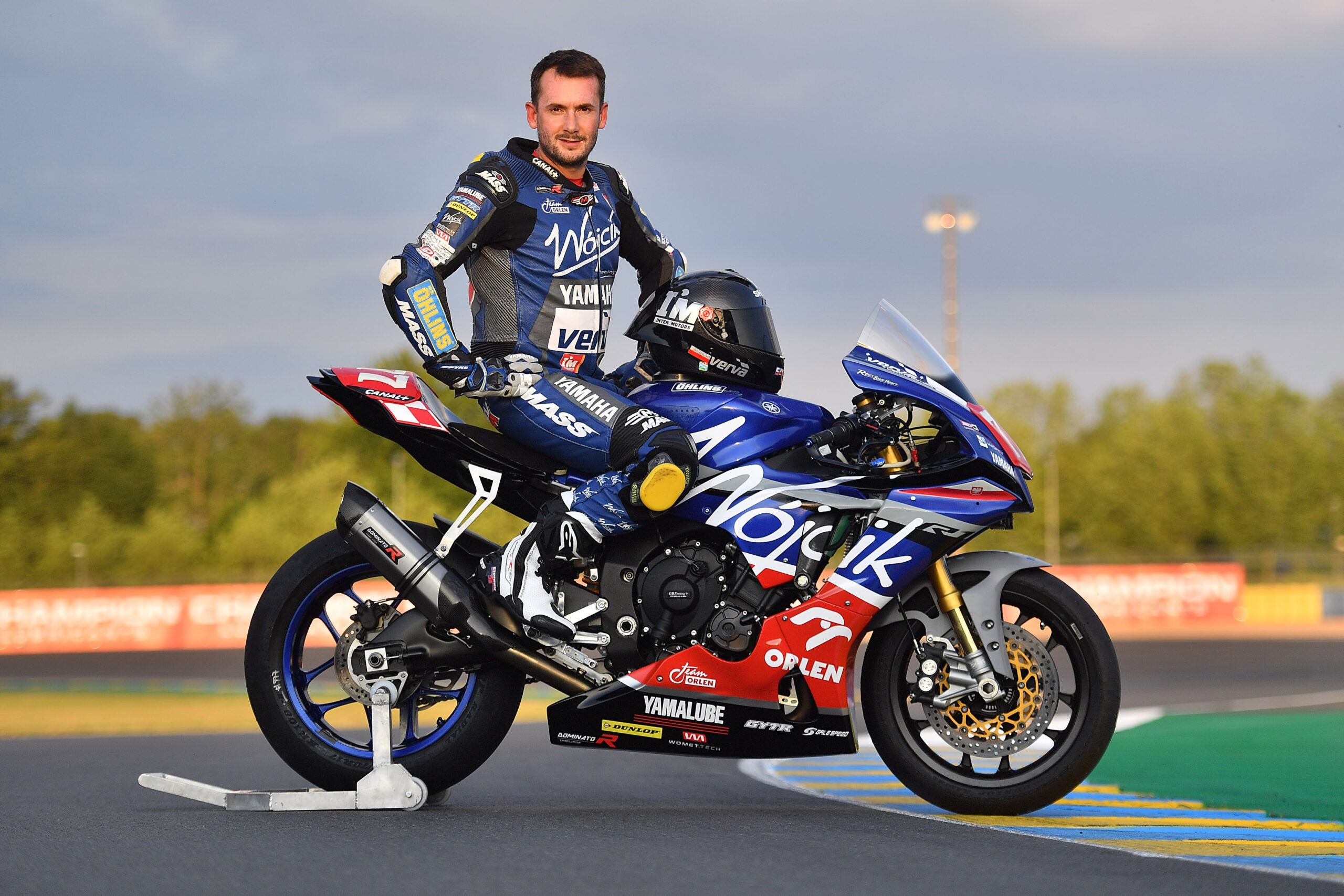 10 June 2021
Wójcik Racing Team with exciting new line-up for 24 Heures Motos
Wójcik Racing Team enters the 44th edition of 24 Heures Motos with an almost completely new, exciting line-up onboard the two Yamaha R1s.
The Polish squad was due to race in Le Mans in April with Gino Rea, Sheridan Morais and World Supersport Champion Randy Krummenacher onboard the no. 77 bike and Marek Szkopek, Michał Filla and Christoffer Bergman onboard the no. 777 Superstock machine.
With the FIM EWC season opener rescheduled for the upcoming weekend both Krummenacher and Bergman are unable to race in Le Mans due to their World Supersport Championship commitments. Meanwhile Gino Rea was forced to withdraw from the event due to travel restrictions between France and the UK.
However, not willing to even consider pulling out of this weekend's event, the Wójcik Racing Team was able to win a race against time and arrived in Le Mans with an exciting new line-up.
The no. 77 EWC Yamaha will be shared by Sylvain Barrier, Balint Kovacs, Artur Wielebski and Sheridan Morais, who should be able to reach the circuit just in time for the Friday's second qualifying.
The Superstock no. 777 machine will be ridden by multiple Polish Champions and FIM EWC veterans Marek Szkopek and Michał Filla as well as Endurance and French Superbike regular, Florent Tourne.
The 32-year-old Barrier is a two-time FIM Superstock 1000 Cup winner and FIM EWC front-runner who finished fifth overall in 2018, as the top independent rider and raced full time in the World Superbike Championship last year. 19-year-old Balint Kovacs from Hungary is a reigning Alpe Adria Superbike Champion, who made his FIM EWC debut in Sepang in 2019.
Meanwhile Morais, Szkopek, Filla, Wielebski and Tourne are all FIM EWC regulars and podium finishers with several starts in the 24 Heures Motos under their belts.
"Last few weeks were absolutely crazy, but we were able to show the world that us Poles never give up – says Team Principal, Grzegorz Wójcik. – We were looking to race in Le Mans in April with our strongest line-up ever but only a few days ago we weren't sure if we'd be able to make it to the grid this weekend. The entire team was able to put in an amazing effort, therefore we're here with two strong bikes as well as a fast and solid line-up. Despite all of the changes our goal remains the same and that's to have both of our crews on the podium, just as in Estoril last year. It won't be easy, but we'll give it our best".