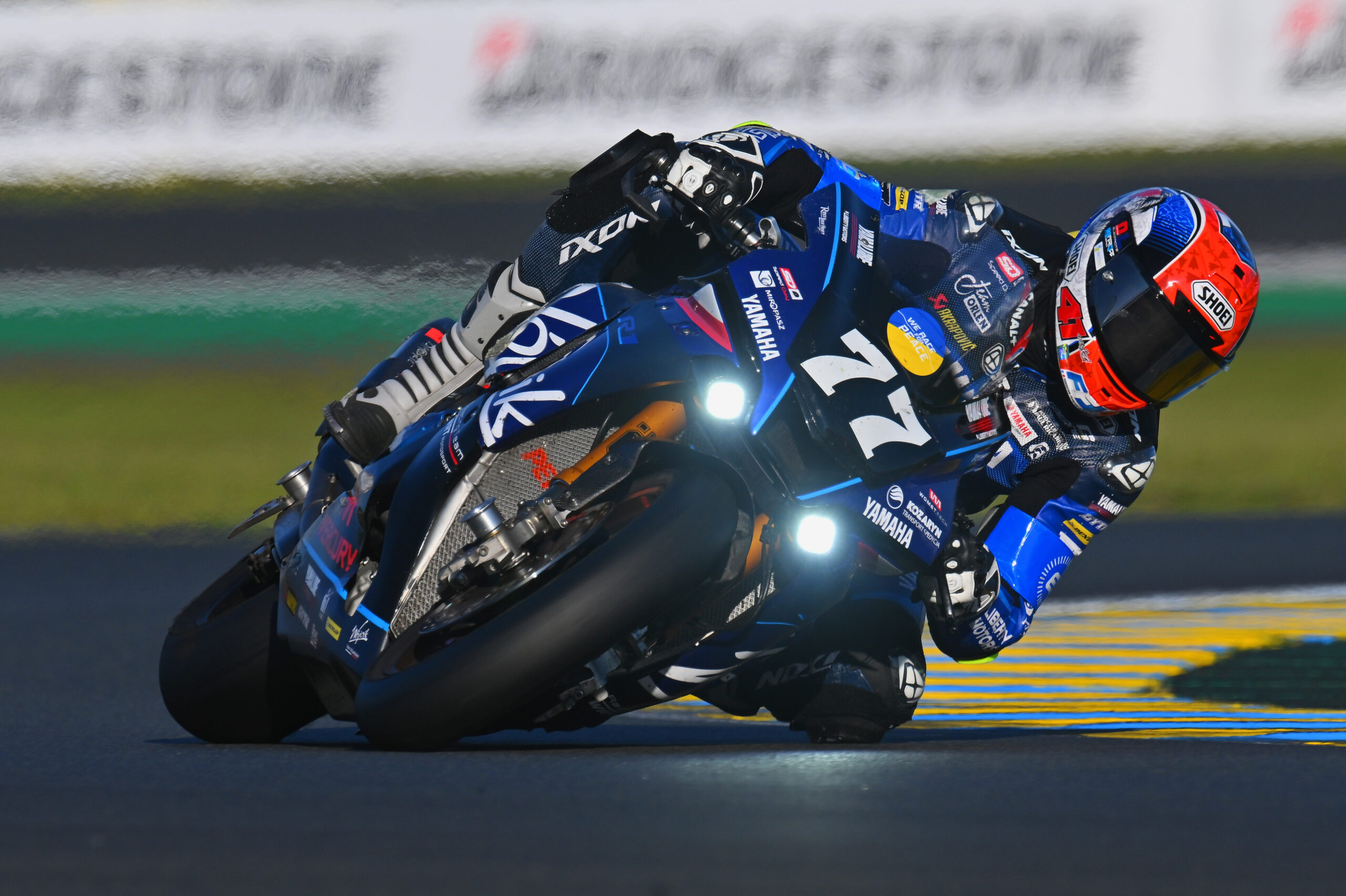 20 April 2022
Wójcik Racing Team unlucky in Le Mans
Both crews of the Wójcik Racing Team had to retire from the legendary 24 Heures Motos, the first round of the FIM Endurance World Championship.
Both Polish crews impressed in the qualifying, with the no. 77 outfit taking a fantastic sixth on the 52 strong grid and no. 777 crew a solid 13th, scoring extra points as the third fastest Superstock team.
Unfortunately, Saturday morning saw Sheridan Morais declared unfit to race due to his Friday's crash in the second qualifying, while Kamil Krzemień was forced to miss the race due to illness.
Just hours before the start the 2014 World Champion Mathieu Gines was joined in the 77 crew by team's reserve rider, Balint Kovacs and YART's Robin Mulhauser, himself a two-time FIM EWC Superstock World Cup winner.
After a solid first hour, the 777 crew of Marek Szkopek, Kevin Manfredi and Danny Webb was battling for a podium finish in the Superstock class before the Briton was forced to pit with a broken chain at the very beginning of his first stint. Eventually the PKN ORLEN supported crew had to retire from the race four hours later due to a gearbox issue.
At the same time team 77 had to briefly stop trackside with the bike catching fire due to an oil filter issue, before returning to action after a quick inspection in the garage.
The 77 outfit dropped to the very back of the field but made its way all the way back into the EWC class Top 10 after 16 hours of racing, before Mulhauser crashed on an oil left by another bike and was unable to continue. The team had no other way but to retire the no. 77 Yamaha R1 with eighth hours of racing still to go.
Despite the unlucky start to the season, the Wójcik Racing Team is aiming to return to the front during round two of the FIM Endurance World Championship, set to take place at the Circuit de Spa-Francorchamps in Belgium on the first weekend of June.
"Unfortunately, Le Mans was unlucky for us again but this is racing – says Team Principal, Grzegorz Wójcik. – We've scored some points for qualifying with the 777 crew, but we were aiming for much, much more this weekend. I'd like to thank the entire team for their hard work and dedication, not just this week but during the last few months of pre-season preparations. We have shown that we can be at the front with both of our crews, and maybe even fight for wins in the Superstock class, so that makes us really motivated ahead of the next races".