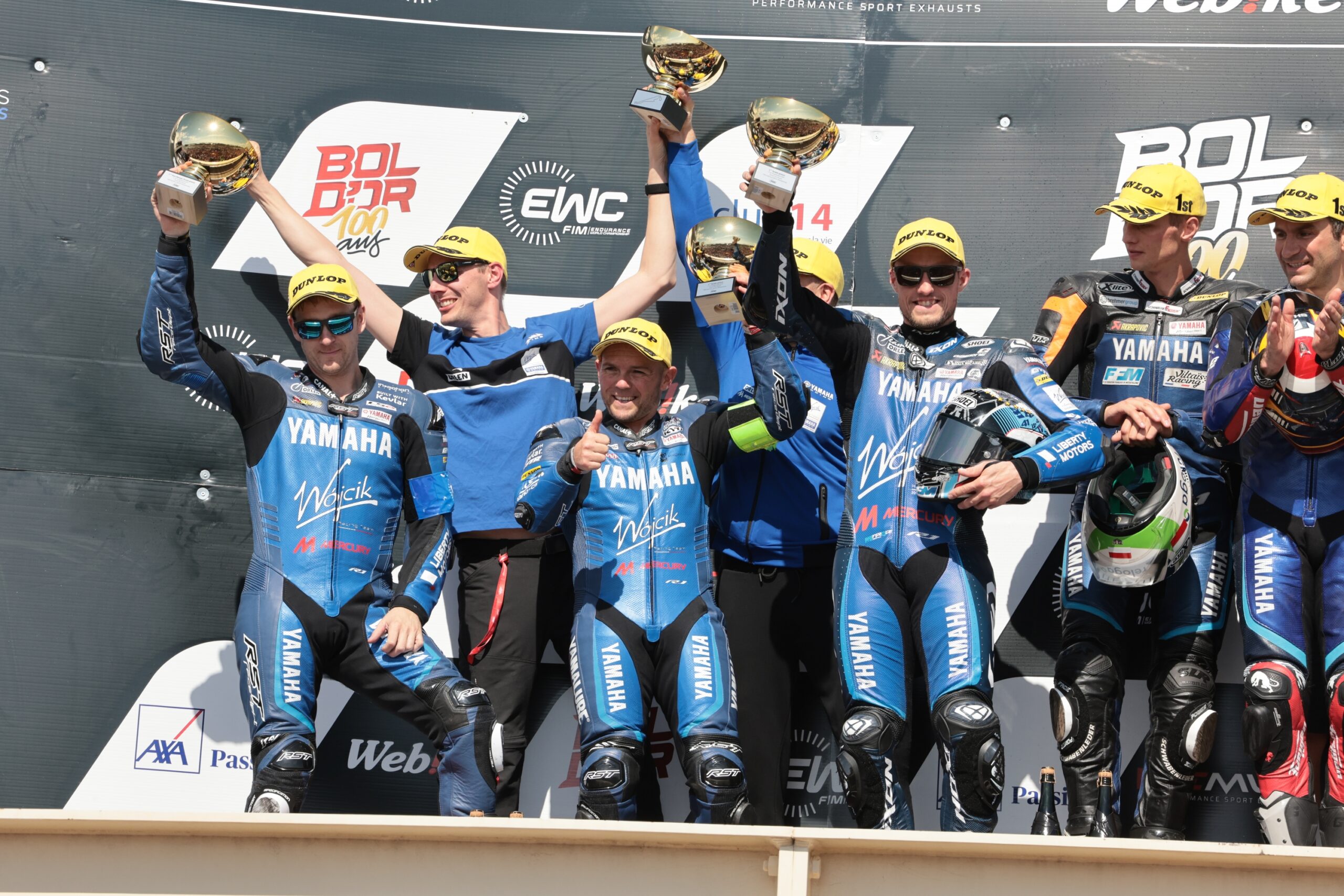 18 September 2022
Wójcik Racing Team takes podium finish at the Bol d'Or
The Wójcik Racing Team scored their second podium finish at the legendary 24h Bol d'Or by claiming a close second position at the Circuit Paul Ricard on Sunday.
Dan Linfoot, Sheridan Morais and Mathieu Gines took the no. 77 Yamaha R1 to second position after briefly leading the race with just one hour to go, repeating the Polish team's success from 2019.
The Superstock team no. 777 was also on course for a podium result, with Marek Szkopek, Kevin Manfredi and Danny Webb sitting in a comfortable third position in the class before an oil filter issue dropped them down to tenth with just minutes to go.
Team 77 finished the 2022 FIM Endurance World Championship in fifth overall, as the highest placed Yamaha outfit on the grid, with Team 777 finishing in tenth in the FIM Superstock World Cup.
"To score another second place in the Bol d'Or after battling for the lead is a dream come true – says no. 77 Team Manager, Adam Stępień. – We came to France looking for a strong result but as we've all seen, everything can happen during a 24h race. I'd like to thank the entire team and dedicate this podium to Gino Rea, who helped us to score what was our first ever FIM EWC podium at the Bol d'Or back in 2019. We are keeping our fingers crossed for Gino's quick recovery."
"First of all congratulations to our crew no. 77 – says no. 777 Team Manager, Sławomir Kubzdyl. – With just 30 minutes to go it looked like we'll have both of our crews on the podium, with our Superstock team in a comfortable third until an unfortunate oil filter issue that almost forced us to retire. It's disappointing after winning the Superstock qualifying and battling for the win for the entire race, but on the other hand we were happy to even make it the grid after a warm-up crash left us with a massively damaged bike, which our mechanics were able to repair with just minutes to go".
"It was probably our hardest and most dramatic race in the FIM Endurance World Championship – concludes Team Principal, Grzegorz Wójcik. – Both of our crews were battling at the front for the entire race, while avoiding issues and mistakes. In the end only one of the crews stood on the podium but we can still be extremely proud of the entire team. Big thanks to all our team members, our partners and of course the fans".